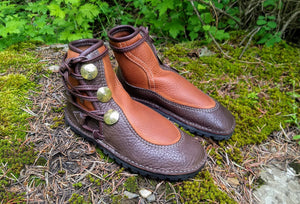 You can now tape-cast your foot at home! And, 5% off footwear orders when you come to us!
Wow, did Spring zip on by...and now Summer's keeping up its pell-mell pace!  Hope you're all feeling hale & hearty out there!  As for us, we're continuing to make adjustments to these off-balancing times: website honing, self-reliance projects (ie. greenhouse), new product development, and...after weeks in production, a 2 part instructional video on How to Tape-Cast your foot at home!
Go to "Menu" and then click on "Ordering Footwear"...there you will find information on how to place an order remotely, as well as the 2 part video.  We'd love to hear any feedback you may have on the video or the written instructions for ordering.  This is a work in progress and one that we have high hopes for.  If you're interested in ordering or have anything to share please contact us.
Many of you are familiar with this land of soaring alps and plunging canyons that we call home (Ahhh...Joseph, Oregon!).  And--given our remote, tucked away location--many of you are not.  Either way, it is truly a place to behold...well worth the flora-flounced, serpentine drive from any angle!  Imagine that you could take this epic adventure into the Wallowa Mountains AND get your foot/feet cast-ed for an entirely customized pair of shoes/boots that you get to design...MY HEART JUST SKIPPED A BEAT! you're exclaiming...well, now we're offering a 5% discount when you come to us!  That goes for both locals and out-of-towners.
If the situation requires it, we are fully equipped with both masks and gloves, and, if it's a nice day, we could even do the casting in our yard under the irresistible and unflappable gaze of Chief Joseph Mountain!
We are also open to coming to you; in fact, we are planning a "tape-casting" road trip (probably August) or two that will take us around Oregon and potentially up into Washington, over to Idaho, and maybe further.  If this interests you please contact us.  The more orders we can get on our list the further we can travel.
We can't overstate how much we appreciate all your support on our mission to be-clad, in leather, every tootsie and trotter we can get our hands on...not to mention shoulders and waists with our head-turning and utilitarian line of bags...and then there're wrists and necks...and jars...oh my!
All the best!
Tera & Dustin
---
1 comment